new sword1
Wakizashi
The request is to make it in Shintogo style.

2007 November
The steel is constructed by Kobuse. The steel is cut into two pieces, one for the wakizashi the other for a tanto.



Wakizashi
The steel is drawn to the length.



2007 December
The wakizashi is shaped by hammer.



2008 January
It is shaped with plane and file.



It is tempered in a silent night.
The picture is just after the temporary polish to see the result.


Some amount of curvature has occurred. The hamon pattern is of course Suguha.

2008 February
On the work of the rough polishing, the smith found a small blister on the temper line. It is a rice grain size, and the place is about 23cm from the tip.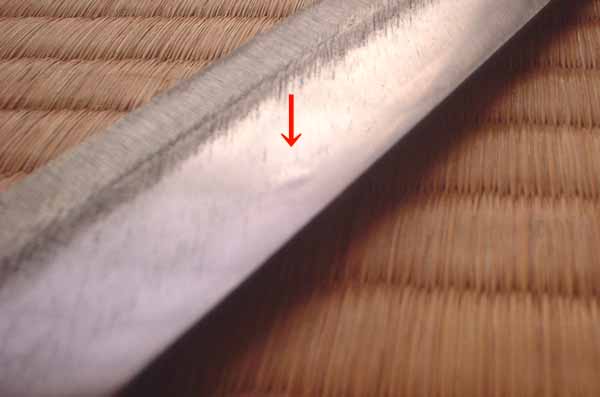 2008 March
The shape is made up with the rough stones. Then a short groove is engraved on the obverse side.



The next stage is making a habaki.

2008 June
The habaki is completed.



2009 February
The blade is polished up.


blade length 56.5cm, curvature 1.0cm


The steel is fine with a small wood grain layer pattern and full of Jinie/Chikei. It should be a success as Shintogo style.
Unfortunately some rough layer patterns appear on the blade. It may be the layer what made a blister at the rough polishing stage. It is not a trouble for steel quality, but a trouble for eye.


The polisher has never tried to grind the blister off, so the shape is kept in perfect. The blister has despaired naturally, and only a rough layer pattern has left around that.

The hamon is a straight pattern, of course. It is made of konie and some amount of nie. The hamon in kissaki is a small round and turn back with sweeping pattern. The very tip of it is not well mannered.

Koshirae

The motif of fuchi is a landscape with pine trees, simple houses, and mount Fuji. And so is Tsuba.
The menuki is a long branched pine tree.

500,000.yen

We will challenge again to make another Shintogo style blade.

Home