Set of Tools for Tight Handle
1,500.yen + Postage
The hammer is 21.5cm long.
To stick out the tang from the tight handle.
The hammer is made of white oak. The tool for shirasaya is a white wood, but I don't know the tree. The tool for koshirae is lauan, a kind of tree in the South-East Asia.


For shirasaya.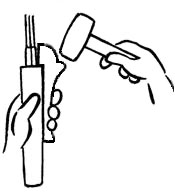 For koshirae.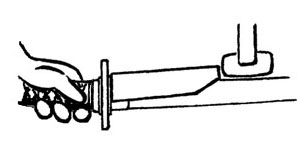 The postage by regular airmail;
600.yen for Asia.
750.yen for Oceania, Europe, North America.
1,000.yen for Africa, South America.
Home > Catalogue > Tools for tight handle