Valley / Mountain / Area : Gundari-Sawa / Fujiu-Yama/ Okutama
Date / Weather : July, 13th, 2004 / Cloudy
Participants : 10 peoples of the Kumagaya Sanryo Kai
Route :Dropping Point 8:15¨11:50the ridgeline¨12:00Mt. Fujiu12:30 ¨13:30Dropping Point
Gears : Rope (8mm~ 20m is enough), harness, ascender and helmet
All free is possible for skilled.
Guide book / Map : Tokyo shuhen no Sawa (Valleys nearby Tokyo) / 1/25000
12th, June

After finishing indoor climbing during daytime, we gathered again at Kumagaya and ran by car at 8:20 in the evening. The number of participants was ten including three people who did not have their experiences of falls climbing.

As we arrived at the Kanoto-Iwa camping ground before 10:00 PM along high ways, I was surprised that how near Okutama is!

In spite of its nice atmosphere of the camping ground such that strange songs of birds could be heard from a deep and silent forest in rain, we started drinking as usual.
Once gA study concerning the name of the origin of the Kannon-route at Mitsutougeh became a topic, Mr. Kumagai began to swing very much.
Mr. Kumagai said it was too difficult for single like him to understand such lofty contents. You tell a lay!
Unfortunately, I can not describe it any more. Sorry.
If interested, please refer the photos of the route in the record of Mt. Mitsutouge.

13th, June
Although it stopped rain in the early morning, it began to rain again at around 7 AM.
Everybody began to give up going. Some of them said, gLetfs go to a climbing gym todeay!h
As I would not be able to go falls climbing for next three weeks, I just had to go the day.
gLetfs go. The weather report says it tend to be fine today. Never flood comes! g, said I.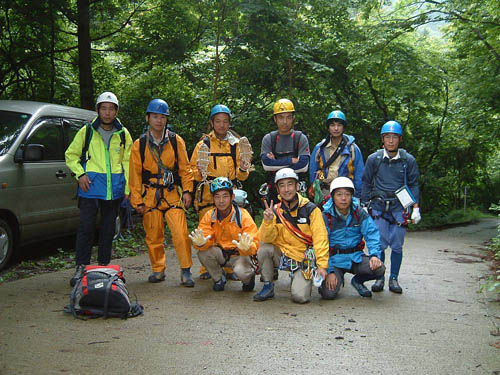 The drop point into stream described to be difficult to find in a guide book was found beside the left corner of path after five minute walk from a ghost house. You may not miss the point because there is a parking space for two cars and you can find the juncture of the two streams and signs of red tapes from car.
Once getting the drop point into stream, they began full of get-up-and-go.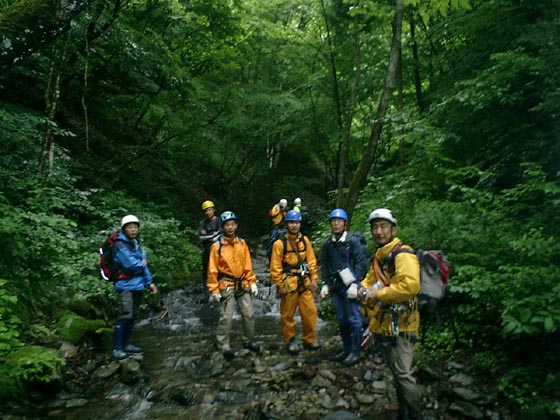 Soon we went into a dark gorge.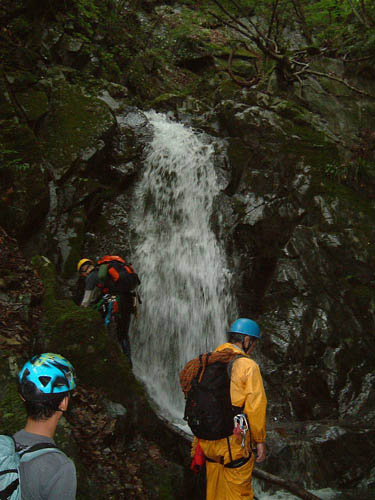 As there were mud or twigs on the bottom of the stream, water changed its color to brown behind people walking, I was not so comfortable. Passing the gorge, falls appeared one after another.
I dared to challenge shower climbing a fall where others avoided getting soaking wet.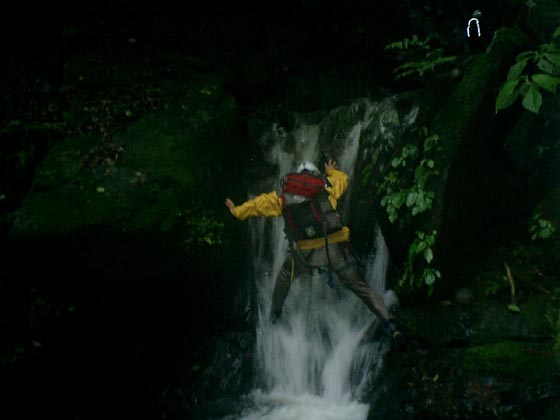 We had to make a detour a waterfall, of which height is only 1 meter, having a choked stone as its overhung is too large to climb over, The next falls of 8 meters high must be climb but Mr. Morita told us that we should to make detour it. To make a detour it, we had to rappel once along the falls of 1 meter high passed just now. It was the first time for everyone to rappel for only 1 meter.

The 2 stepped falls of 10 meters high we met next was also detoured along the right side. Setting a quick draw through the fixed rope near the top of the falls, we passed the steep slope. You have to be careful to pass there,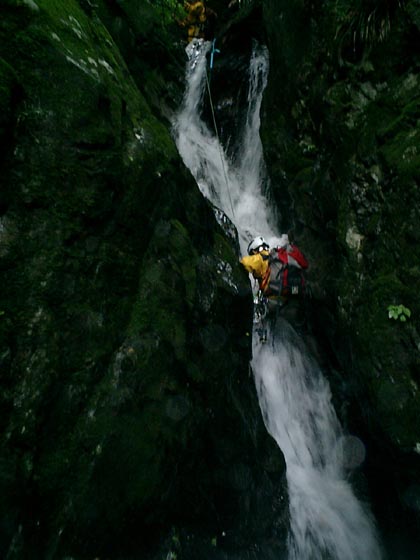 The core point of this time was the falls of 5 meters like a slide. It was fun for us but Mr. Ishikawa to climb it pouring water over ourselves. Mr. Ishikawa was forced a hard fight because of his old Japanese style water shoes. He might decide to buy new shoes for falls climbing though the falls climbing planed in the next month will be Nishizen where his old shoes will be very effective.

Trying left side of wall of the falls which is described to be climbed along right side wall in guide books slipped down for 3 meters. But his second challenge was succeeded in.
Mr. Miyawaki found easier root in right side wall and he could climb it easily.
Of course the others followed Mr. Miyawakif.
Upper stream of the falls of 10 meters high we detoured easily, there is not remarkable falls. We could get to a ridgeline along V shaped valley without going in bush.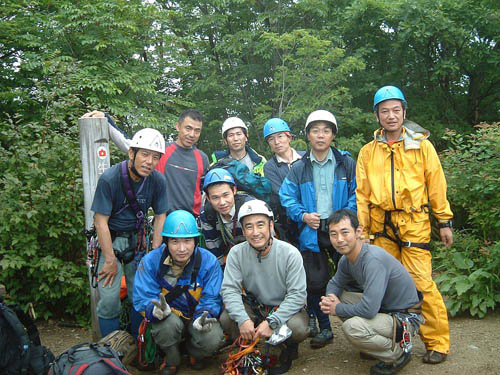 After lunch at the peak we descended along trail for trekker.

Reported and translated by Tsunekichi.
Your comments or impressions will be appreciated.
Thank you